Minimum requirements:
Windows 10, macOS 10.10, Bluetooth 4.0.

Guitar Pro 7.6 is Fretlight Ready. It means that you can easily connect your Fretlight guitar to Guitar Pro 7.6 without any additional plugin or program. To do so simply follow these few steps.

1/ Enable the Fretlight option
Open the Preferences from the File or Guitar Pro 7 menu in Guitar Pro 7.6
Go to Interface > Toolbar section and enable the Show Fretlight button option as follow: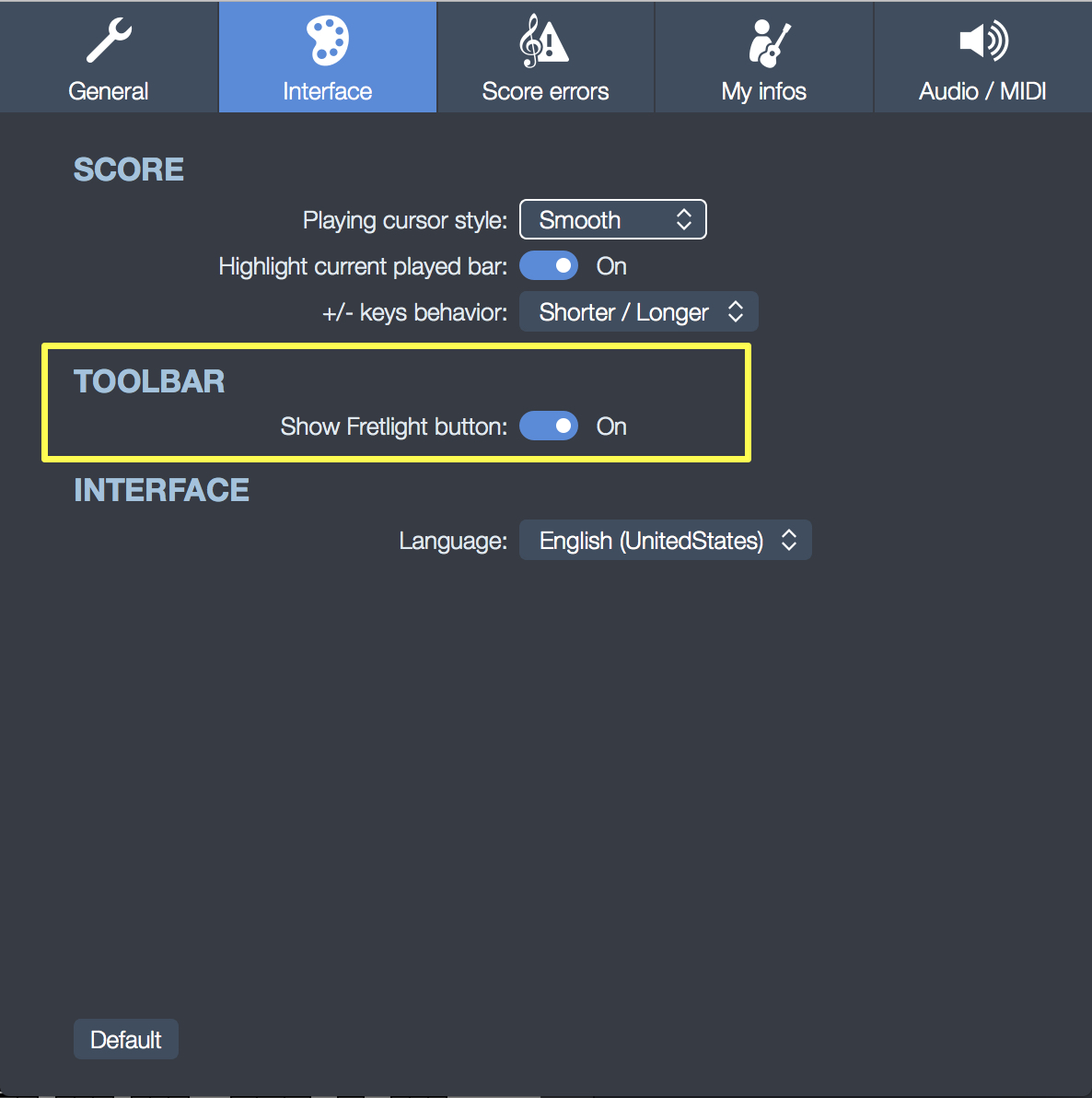 The Fretlight button will appear from the top right of your Guitar Pro 7.6 window in the Toolbar.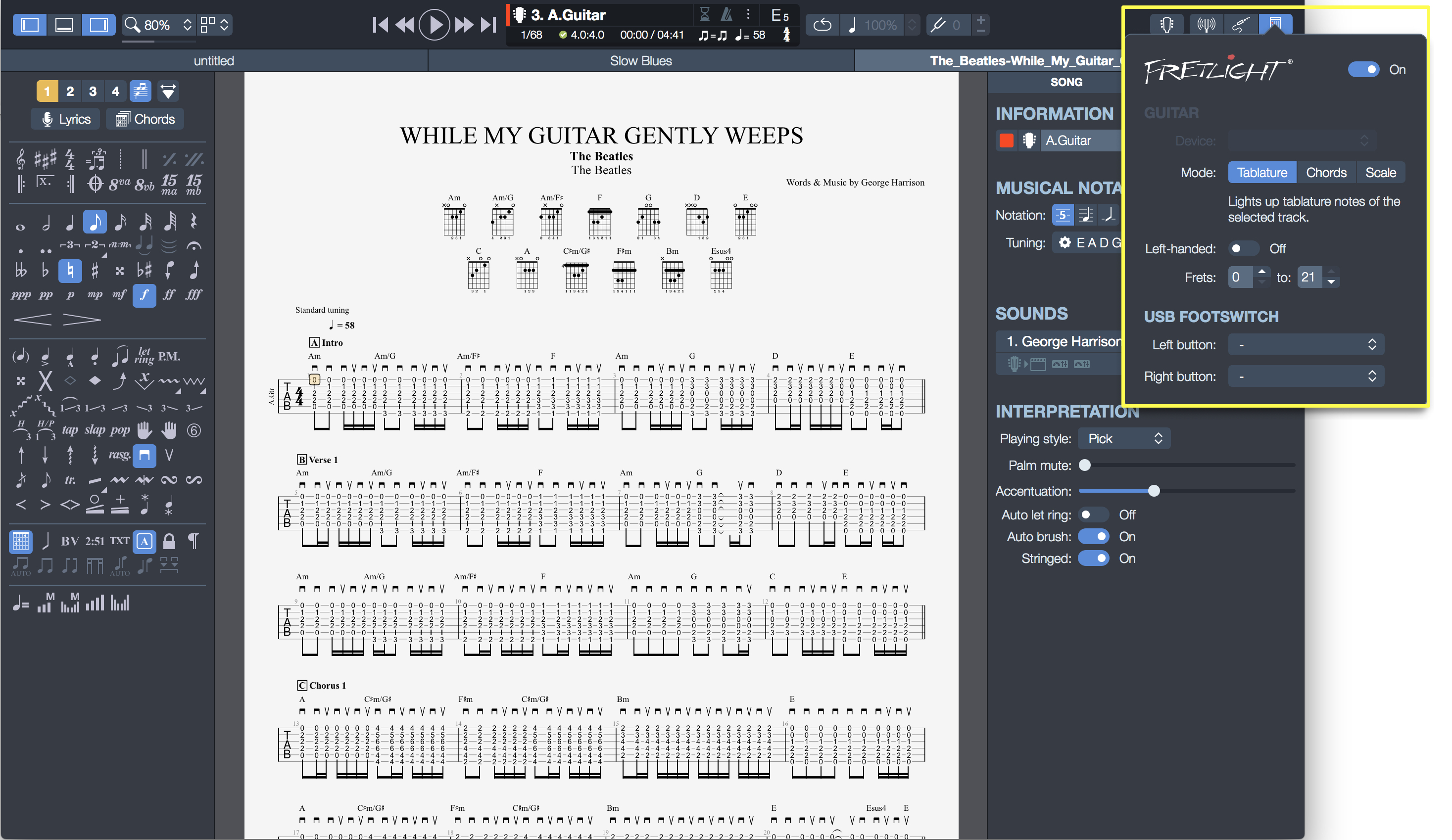 2/ Connect your Fretlight Guitar
Wired Fretlight guitars
Plug your wired Fretlight guitar into your computer.
This one will automatically appear as Connected in the Fretlight preferences window as below.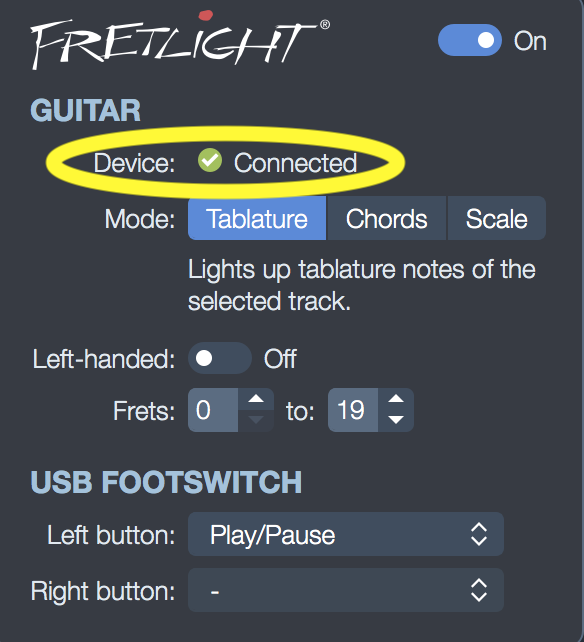 Bluetooth Fretlight guitars
Warning:
At least Bluetooth 4.0 is necessary to connect your Wireless Fretlight guitars to Guitar Pro 7.6. You can consult these articles for
Windows
and
macOS
to check if you meet this minimum requirement.
Once activated your Fretlight guitar will automatically be detected by Guitar Pro 7.6 after a short syncing time (about ten seconds) and then appear as Connected in the Fretlight preferences window.

If your Bluetooth guitar does not appear as connected:

1/ Make sure your computer use at least Bluetooth 4.0 and that the Bluetooth option is enabled.
2/ Make sure that your Fretlight guitar is not already connected to another peripheral or program.
3/ Reset the Fretlight guitar by pushing the black button located next to the mic USB entry.
Press it until all the lights will flash.
Then open Guitar Pro 7 and one of your file, your Fretlight guitar should connect automatically.
Guitar Pro 7.6 with Fretlight Guitars Overview
Take a look at this video made by Rusty Shaffer (Fretlight founder) explaining how to use a Fretlight guitar with Guitar Pro.
If you need more information about your Fretlight guitar please visit the Support section of the Fretlight website.